Crescent Yellow
It has been almost two years since the global economy experienced an unprecedented shock in the first months of 2020 with the COVID-19 pandemic. The economic and political consequences of the pandemic, in which millions of people lost their lives, seem to continue in 2022. The 2022 special issue, prepared by The Economist's research unit Economist Intelligence, examines which trends will lead the global economy after the pandemic and what awaits in 2022.
Tom Standage, editor-in-chief of the magazine, emphasizes in his editorial in the special issue that "2022 will be the year of adaptation to the new normal after the pandemic". According to the Economic Intelligence analysis to Standage, the 2022 pandemic may turn into an endemic with new treatments and vaccination, inflation concerns will continue, the conflicts between the US democracy and the Chinese autocracy, the transformation of employment from home to work, the growth in cryptos, technology and space wars in the midst of great powers will occupy the agenda, It will be a year when global travel will have difficulty returning to its old days and the climate crisis will continue to be at the center of the transformation discussions.
GLOBAL GROWTH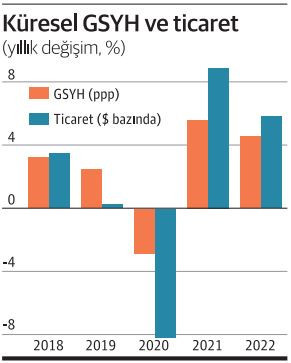 Economic Intelligence, which predicts the global economy to grow by 4.4 percent in 2022, draws attention to the fact that the growth will not be evenly distributed. With governments and central banks withdrawing reinforcements and some central banks starting to increase interest rates, it will be one of the most valuable factors that strengthen the dollar and reduce inflation pressures in 2022. In the analyzes made by Economic Intelligence, 10 important business trends that will take a side in the course of different sectors in 2022 are listed as follows:
STRENGTHENING CYCLE: Ultra-loose monetary policies are exiting. The US Federal Reserve (Fed) is expected to rapidly reduce asset purchases and start raising real interest rates by the end of 2022. By the end of 2022, the projected federal funds rate is expected to reach 0.63 from the current level of 0.13.
COVID-19 AND VACCINES: Although health services will be interrupted with new variants such as Omicron, investments in vaccine production capacities will increase the total vaccine capacity by 5 times – to 22 billion doses.
SLOWING ONLINE: Online retail, which had a 10 percent share in total retail sales in 2019 and increased to 17 percent by 2021, will continue to grow, but will slow down with the removal of restrictions.
DISTRIBUTIONS IN TOURISM: The sector will not have an easy year in 2022 either. International flights will not catch up with 2019 even with an increase of 50 percent. Each new restriction will mean a new challenge for the branch.
POWER INFLATION: Although the OPEC+ alliance continues to increase oil production, oil prices are expected to remain 10% higher in 2022. Especially in Europe, natural gas prices will continue to keep their high course and will continue to push the producers.
COMMODITY INFLATION: Although the EI commodity price index will decline slightly in 2022, prices will remain high above pre-pandemic levels due to strong demand.
5G INVESTMENTS: 41 of the 60 largest countries will be using 5G technology in the first months of 2022. It will lead Latin America and Asia bandwidth auctions. The US will begin 6G trials.
GIANT INFRASTRUCTURE PACKAGES: The government's giant infrastructure packages in the US and China will increase global infrastructure spending by 5 percent to $25 trillion.
WEST-CHINA TENSION: NATO's focus will continue to shift to Asia. The US is expected to increase its anti-Chinese military spending by 1.6 percent, and China is expected to respond by increasing its spending by 7 percent.
BLOCK OFFICE RECORD IN THE CINEMA: Hollywood is hopeful for 2022. $9 billion box office revenue is expected in the US, with the return of moviegoers who missed the big screens for a long time. China is the other giant player of the branch.
BRANCHES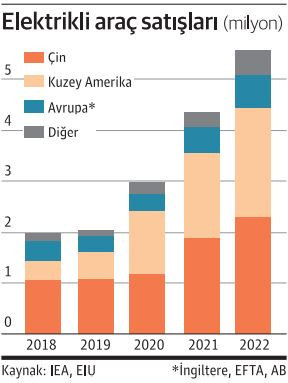 AUTOMOTIVE
Ee will accelerate, total sales will not reach 2019
It is predicted that new vehicle sales will not be able to reach 2019 levels in 2022 due to the ongoing chip crisis and supply bottlenecks. Compared to 2021, new vehicle sales will increase by 6% and commercial vehicle sales by 7%. Europe will be the region with the strongest rebound, with the USA in second place. Half of global sales will continue to come from Asia. The US-China technology wars will aggravate the negative effects of the chip crisis on the automotive industry. The share of electric vehicle sales will increase from 4 percent in 2019 to 9 percent. The US will spend 174 billion dollars on electric vehicles. 4 million of the 5.6 million electric vehicle sales will take place in China. Toyota Japan will launch its first fully electric vehicle. Backed by VinFast and Alibaba in Vietnam, Zhiji is one of the new players in the branch. Investments in charging and battery infrastructures will continue, but the raw material bottleneck will make battery supply difficult. Autonomous will also be slow to progress, although the gears will increase.
DEFENSE-AVIATION
Defence budgets will rise
With the movement in airports, commercial aircraft production will increase. Boeing's banned 737 MAX will begin its flights. Airbus and Boeing will accelerate their production, especially in narrow-body jet aircraft used for short-range flights. According to Moody's predictions, commercial aviation will not be able to reach 2019 levels.
Defense spending will increase. NATO leaving Afghanistan is shifting its focus to China. The US, which has the largest defense budget, will increase its military spending by 1.6 percent against China. China will also increase its defense budget by 7 percent. Governments' cyber-influx concerns will benefit security companies. The US will prevent military satellites from making "cyber sorties" with Boeing's help.
POWER
Power won't be cheap in 2022 either
Power prices, which have increased with reopening in 2021 and strong demand, are expected to maintain their high course in 2022. It is expected that the price of Brent oil will be 10% more valuable than in 2021, and the price of a barrel will be around 79 dollars in 2022. The gradual increase in OPEC+ production will prevent Brent from rising further. Although there is a slight decrease in natural gas, which broke records in Europe, compared to 2021, prices will continue to be two or three times higher than in 2019. Very cold temperatures can increase prices even more. Increasing demand for oil and natural gas will also increase carbon emissions. Although the share of renewables in giants such as the USA and China has increased by 10 percent compared to the pre-pandemic period, the dominance of dirty power sources will continue. Nuclear fusion is one of the greatest hopes of sustainable power that needs to accelerate to deal with the climate crisis.
CUMBUS
The game branch is strong, the cinemas are also hopeful
In the analysis published before it was understood that Omicron is a variant that spreads much faster than Delta, it is predicted that in 2022, when economics is not expected to apply strict quarantines again, movie theaters will be full again. According to PwC predictions, movie box office revenues will increase by 58 percent in 2022 compared to 2021. But even this comeback results in the box office closing below 10 percent in 2019. Streaming giants will pour big bucks on original content – ​​Netflix alone could spend $17 billion. The gaming segment, on the other hand, will generate 168 billion dollars in revenue, an increase of 32 percent compared to the pre-pandemic restrictions, despite the restrictions in China. Streaming platforms such as Netflix are also entering the branch where the leadership battles of giants such as Amazon, Apple, Google, Microsoft, Sony and Tencent continue. However, all these game companies are also turning to 'metaverse' technologies led by Facebook.
BANKING
Authorities will sleep with fintek
If inflation pressures continue in the global tightening cycle led by the Fed, interest rates will rise and risks increase for weak banks. In the worst-case scenario, Europe's bad debts could reach €1.4 trillion ($1.6 trillion). The rate of bad loans in India can reach 11 percent. In the most adequate scenario, the tightening is very gradual and global banking assets could reach $187 trillion in 2022, up 6 percent. Authorities trying to catch up with the fintech boom will focus on regulations for new financial technologies. A cautious attitude towards cryptocurrencies will continue, as policy makers in developed economies are concerned that they cause instability in financial markets. Governments will try to gain control with digital banking licenses and develop their own digital currencies. "Buy now, pay later" services will become an online alternative to credit cards. IPOs will finance the fintech boom.
FOOD AND AGRICULTURE
Prices will remain well above 2019
The food price index of Economist Intelligence, which tracks food, food and beverage prices, will decrease by only 1 percent in 2022 and will maintain its course well above the pre-pandemic level. In 2021, very strong decreases in prices are not expected, with strong demand for animal feed and slumping yields in some countries. With the slowdown in economic growth, supply bottlenecks will also ease. Although the increase in corn stocks brings a 5 percent decrease in prices, it will still be 45 percent more valuable compared to 2019. The production increase in oilseed prices, which increased by 43% in 2021, will bring a price decrease of 3 percent. A similar course is expected in soybean. Global tea consumption will increase by 4 percent and its prices will increase by 8 percent. In 2021, coffee prices, which have seen a price increase of more than 20 percent due to the cold weather in Brazil, will be a pullback due to hot weather. Global warming will cause extraordinary developments such as the avocado harvest in Italy. Start-ups and food giants will try to solve the 1.6 billion tons of waste food shortage at the cost of $750 billion.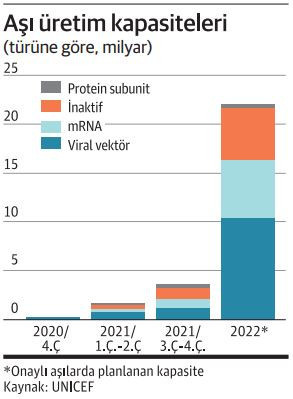 Health
Vaccine production increases 5 times
New dangerous and infectious variants such as Omicron will continue to pose risks to health systems and economies in 2022. Increasing vaccine inequality continues amid developed and poor countries. However, this bottleneck may be alleviated with the valuable increase in vaccine production capacities. It is predicted that the world's COVID-19 vaccine production capacity will increase by 5 times and 22 billion doses of vaccine will be produced in 2022. As the vaccine accelerates, 'zero COVID' policies, which risk suppressing global supply chains in China and some countries, are expected to loosen. It is predicted that global health expenditures will increase by 5 percent, and expenditures in the USA will rise above the average due to the social policies of the Democrats. There are concerns that death rates in cancer may increase due to the pandemic. The number of mental illnesses is also expected to increase.
INFRASTRUCTURE
USA and China will take the lead
With the impact of China's giant infrastructure plans and US President Joe Biden's 1 trillion dollar infrastructure package, global infrastructure investments will increase by 6 percent and reach 25 trillion dollars. The most attractive global infrastructure expenditures are expected to be telecommunications networks, logistics and pure power. Of the $25 trillion infrastructure spending, $12 trillion will take place in China. In the US, the focus of infrastructure spending is transportation, pure power, electric vehicles and bandwidth. China's Road Generation project and the alternative infrastructure project of the G7 countries will continue to clash.
INFORMATION TECHNOLOGIES
IT market will grow 4 percent, software will grow 12 percent
The fact that the pandemic has increased the need for digitalization much faster than expected will enable companies to continue their investments in information technologies. From remote work to freight tracking in foreign trade, companies are making investments in many areas based on pandemic requirements. In 2022, when these expenditures will continue, the global IT market is expected to grow by 4 percent. According to Gartner predictions, software is the shining star of the IT market with 12 percent growth. The rise of hybrid operating systems and the cybersecurity requirements of governments are the most valuable drivers of market growth. Gartner projects advanced governments' spending on Internet of Things (IoT), critical to their monitoring, to reach $21.3 billion in 2022.
ADVERTISING
Digital's share will reach 51 percent
Global advertising expenditures, which managed to catch up with the pre-pandemic period in 2021, will increase by 7 percent compared to the projections of Japanese media giant Dentsu. Advertising growth in major consumer markets such as the US, UK, India and Russia is expected to be even faster – thanks to companies looking to regain lost consumers. Billboard and poster advertising expenditures are expected to increase by 19 percent as vaccinated consumers return to the streets. The share of digital in advertising can reach 51 percent. Portable ads will account for more than 64 percent of internet spending. In the US, Amazon controls 10% of the digital advertising market. eMarketer says e-commerce giants will try to increase this share even more. It is expected that companies will add to the digital versions of the newspapers and magazines they advertise.
MINING
Copper will rise 4 percent, steel will fall
The fastest rise of the last decade was seen in industrial commodity prices, with an increase of nearly 40 percent in 2021. A pullback in prices is expected in 2022 with the slowdown in global growth and the relaxation of supply bottlenecks due to the pandemic. While a 1.1 percent decrease is expected in metal prices, it is predicted that the decline in prices of some metals, including steel, will be more severe. Prices for many metals will be biased according to the course of the Chinese economy. Green power transformation and urbanization will keep demand for copper and aluminum strong. The nationalization of mining companies in Peru, the world's largest copper producer, is the subject of speech. In fact, record-breaking copper prices are expected to rise another 4 percent in 2022 due to the need for green transformation works such as electric vehicles. However, if the authorities are too strict in the conversion, it can negatively affect the production of aluminum and steel.
REAL ESTATE
Tenant evictions will begin
In the global real estate branch, evictions will begin with the end of the rent retention bases provided by governments during the pandemic. Companies will downsize their offices, stores will continue to close due to the increase in online sales. But online stores will need warehouse space. In Europe alone, 4 million square meters of warehouse space will be added to the total supply. Interest rate hikes and financial tightening will slow down real estate loans. Real estate taxes may be increased in developed economies such as the UK, Spain and Canada. As priorities change, remote work will increase demand for private resorts from the Bahamas to Maruitius. Interest in cities with sufficient infrastructure such as London, Frankfurt and Singapore will increase and the share of foreign investors in the rental real estate market in these cities will increase to 47 percent. Office rents will increase without fail by the end of 2022. Regulatory pressures will also be monitored to make the construction division more sustainable.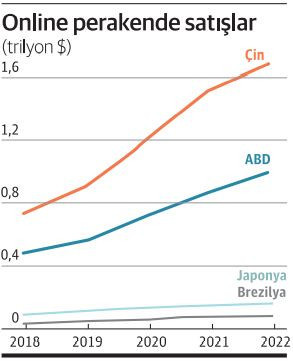 RETAIL
Fast delivery will exceed the borders
Online will increase its share of total retail sales to 17 percent. However, with the governments loosening the restrictions, the annual growth rate of the sector will slow down to 13 percent. Authorities will continue to punish e-commerce companies that distort competition and misuse their power. 22 percent of international goods sales will come from e-commerce. Asia and America are more prone to online shopping, European consumers are more spaced. However, due to the pandemic, it is stated that new players can enter the fast delivery market, which includes pioneers such as Getir in many developed markets, including Europe, and companies will grow by exceeding the borders of the country. In the analysis of Economist Intelligence, it is predicted that Getir, which opened to Europe with its fast delivery service, will also start to meet the need in the US market. According to the analysis, 1.4 billion Chinese consumers will spend $437 billion on clothing and shoes. However, the US-China tensions over Xinjiang cotton and Uyghur human rights violations are directing the nationalist Chinese youth to local brands.
TELECOMMUNICATION
Gears will rise in 5G
In the first months of 2022, 5G networks will become widespread in 41 percent of the 60 largest markets. Valuable 5G spectrum auctions will be held in Latin America and Asia. India will lag behind in 5G due to its efforts with the pandemic. More than 600 thousand 5G base stations will be installed in the largest markets. 6G experiments will also begin in the USA and some economies in Asia. But the ongoing chip crisis may cause delays in the production of smart devices such as 5G compatible services and mobile phones. The strongest growth in portable and fixed bandwidth subscriptions is in Latin America and North Africa.
TRAVEL AND TOURISM
Consolidation can be seen in aviation
In the global tourism branch, 2019 levels will not be reached, but the number of international tourists is expected to reach 1.1 billion, with an increase of 50 percent compared to 2021. Due to the new restrictions brought with Omicron and the decrease in business travel, the number of 1.5 billion tourists seen in 2019 does not seem possible for 2022. Cash continues to melt in the aviation segment and a consolidation can be seen in the segment. Before the pandemic, China, the largest tourist source of the global economy, will only open its doors to Hong Kong and Macau. Many countries will reopen their borders to foreign tourists thanks to vaccine-testing-tracking systems, but domestic tourists will continue to be of critical importance for the section.
GLOBAL GDP TO EXCEED $100 TRILLION FOR THE FIRST TIME
According to the report of the Center for Economics and Business Studies (CEBR), headquartered in London, world economic GDP will exceed 100 trillion dollars in 2022 for the first time.
According to the World Economic League Table 2022 report prepared by CEBR every year, the global product is preparing to exceed 100 trillion dollars at current prices for the first time in 2022, 2 years before the previous claims. CEBR estimated last year that the world's GDP will exceed $100 trillion in 2024 for the first time. According to the predictions of the organization, China will overtake the USA in 2030 to become the largest in the world economy. CEBR's report for 2021 predicted this to happen in 2028. China's economic growth will average 5.7 percent in the period from 2020 to 2025, 4.7 percent in the 2026-2030 period, and 3.7 percent in the 2030-2035 period.
According to CEBR's projections, India will again take the rank of France, the 6th largest economy in the world, next year, and will become the 3rd largest economy in 2031, a year later than previously claimed. Germany, Europe's largest economy, will surpass the Japanese economy in 2033. In 2036, the world's top 10 economies will be China, USA, India, Germany, Japan, England, France, Indonesia, Brazil and Russia, respectively. Benefiting from the rapid economic growth in the post-COVID-19 period in the USA, Canada 11th, South Korea 12th, Italy 13th, Australia 14th, Spain 15th, Mexico 16th, Saudi Arabia 17th, Netherlands 18th, Turkey 19th and Vietnam 20th.
Effort with inflation could bring recession in 2023 and 2024
According to the report, global GDP will rise with the continuation of the recovery from the health and economic crisis caused by COVID-19, but if inflation continues, it will be difficult for policy makers to prevent the economy from falling into recession again.
CEBR Deputy Leader Douglas McWilliams used the phrase, "The valuable bet for the 2020s is how the world's economies will deal with inflation."
McWilliams stated that they hoped that a "modest" adjustment in monetary policies would control non-discontinuous elements, and argued that the world economy would have to prepare for a recession in 2023 or 2024 unless inflation was brought under control.
"Turkey will grow by an average of 3.4 percent in the next 4 years"
The CEBR report predicts that, unlike more than one country in the world, the Turkish economy grew by 1.8 percent in 2020 and will grow faster by 9 percent in 2021. Predicting that Turkey's economic growth will be 3.4 percent on average from 2022 to 2026 and 3.7 percent in the 2027-2036 period, CEBR assumed that Turkey will rank 19th in the world's largest economies in 2036. According to the report, which stated that the public finances in Turkey are in a healthy condition, the share of the country's public debt in GDP, which was 39.8 percent in 2020, fell to 37.8 percent in 2021.
"SUPPLY CHAIN ​​DIFFERENCES TO CONTINUE IN 2022"
Euler Hermes, one of the world's largest credit insurance companies, emphasizes that supply chain disruptions will continue in 2022 in its report, which closely examines the developments in global trade in the coming period. Euler Hermes predicts that the global trade volume, which increased by 8.3 percent in 2021, will gradually return to its pre-crisis long-term average and increase by 5.4 percent and 4 percent in 2022 and 2023, respectively. In the Global Trade Report, in which many factors affecting trade such as logistics bottlenecks, dependence on Chinese imports, the status of ports, and the effects of COVID-19 are closely examined, the effects of global supply chain disruptions, COVID-19 and the volatility of the Chinese New Year in the demand and logistics wing. It is expected to remain high until the second half of 2022.
Power, electronics and machinery exports will continue to be strong
While the sectors that will continue their exports in 2022 are listed as power, electronics, machinery and equipment, it is said that the winner of exports in 2023 will be the automotive sector.
In the report, it is emphasized that global goods trade, which has been performing strongly since the second half of 2020, contracted in the third quarter of this year, 75 percent of this contraction was due to production deficits and the rest was due to logistics bottlenecks.
3 factors that will normalize trade
It is expected that supply chain disruptions caused by the global supply-demand and shipping capacity mismatches triggered by the COVID-19 epidemic peak, and then decline in the next period. The three factors that will be effective in the return of trade to normal starting from the second half of 2022 are listed as follows:
SLOWING CONSUMPTION: Slowing down consumer spending on strong goods as replacement times are long and sustainable consumption behaviors are beginning to be adopted.
INCREASE IN STOCKS: The increase in capital expenditures, especially in the USA, and the ease of input difficulties due to the fact that inventories have returned to pre-crisis levels or even exceeded those levels in many sectors.
INCREASE IN CAPACITIES: Reduced transport congestion with increased capacity.
The winner of the export will be Asia-Pacific
In terms of exports, Asia-Pacific will continue to be the main winner for the next few years, with benefits to exceed $3 trillion in 2021-2023, following a loss of $420 billion in 2020. More than half of these gains will be achieved in 2021. This will be followed by gains of $630 billion in 2022 and $710 billion in 2023. The overall performance of European exporters in the 2021-2023 period will be similar to that in Asia-Pacific. North America's export benefits are expected to approach $800 billion in the 2021-2023 period. The segments that performed well in 2021, such as the power, electronics and machinery and equipment segments, will continue to maintain their exports in 2022 in a strong form. The number one winner of exports in 2023 will be automotive, thanks to the workload and low capital costs in 2021.